Predicting Your Favorite Thanksgiving Dessert Based on Your Preferred Side Dish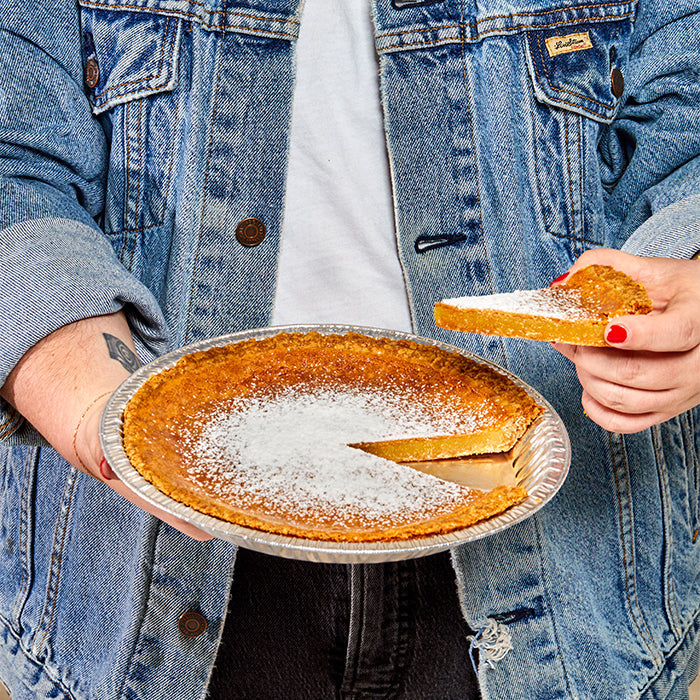 Introduction
Flannel tablecloths, folding tables, fake leaves as decor – it must be Thanksgiving time. This autumnal holiday is a favorite for many, and not just because of the family togetherness and cherished traditions, this is a bigtime dessert day! Whether you're favorite Thanksgiving dish is the turkey or you gravitate more towards the sides, we all know dessert is the star of this Thanksgiving Day holiday meal, and we are here to take the guesswork out of finding your perfect Thanksgiving dessert match. So put on your apron and read on to discover the perfect dessert for you based on your preferred savory situation.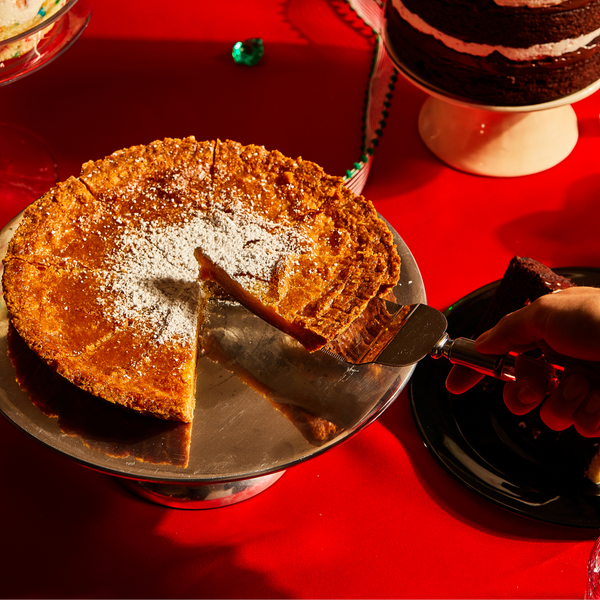 Milk Bar® Pie
Our signature, gooey Milk Bar Pie has a sticky, buttery, salty-sweet filling in a hearty oat-cookie crust. *This* is the pie that put Milk Bar on the map. Get it delivered fresh, anywhere in the USA. We dare you not to have a second slice.
10" pie serves 8-10.
Monthly Care Package
Whether you're a super gifter, creature of habit or just love the thrill of getting something sweet delivered every month, we've got your back. This monthly delivery option allows you to sit back and relax, knowing that we'll send (your favorite) Milk Bar treats, every month. Your order will arrive the same time each month, so you can plan your dessert breaks accordingly. If you want to cancel or adjust the details of your subscription, just log into your Milk Bar account and navigate to "manage subscriptions" to make changes, or check out our FAQs here for more info.
Please note, monthly care package orders are not eligible for delivery date selection and typically ship within 1-3 days of purchase. If you have a one-time purchase in the cart with the monthly care package, you cannot select a delivery date. In order to select a delivery date, place one-time purchases separately from the monthly care package.
Possible uses for monthly delivery:
Always having something sweet on hand when company calls
Stocking your office break room with goodies so everyone likes you
Monthly "I see you" moments on the doorstep of someone you like/love
Making sure your midnight snack supplies are maintained
An autopilot option for nonstop birthday gifting needs
Your college kid needs to know cookies don't grow on trees but do show up every 4 weeks give or take
Your bookclub loves a good snack
The thrill of seeing the white and pink box on your doorstep
The Thanksgiving Feast: a Symphony of Flavors
Before we can play matchmaker, let's set the table. Thanksgiving is nothing if not a time for family dinner traditions. Whether it's tuning into the big game, serving your cranberries from a can, or making grandpa sit at the kids table, year after year you can expect some classics to make an appearance. The traditional Thanksgiving meal is built around a roasted turkey as the lead, with some lineup of supporting cast members. You can expect to see: stuffing, mashed potatoes, green bean casserole, cranberry sauce, sweet potato casserole, rolls, and corn casserole. If that sounds like a doozy of a line up, we've got one bit of advice for you: start your prep early! No one wants to spend Thanksgiving day stressing out.
Pumpkin Milk Bar Pie
Meet the 2-in-1 pie of your dreams. Pumpkin Milk Bar Pie has the gooey, buttery, fudgy consistency of a pecan pie mixed with the quintessential pumpkin flavor you can't resist during fall. Your dessert plate will never be the same (in a good way). This pie is a hit at any type of fall event—parties, birthdays, Friendsgiving—or even just a Tuesday night.
Thanksgiving Sides and Their Dessert Companions
Now that we know who is making an appearance at the Thanksgiving feast, we can focus on the most important element of the gourmet turkey feast: the dessert. Let's play matchmaker with our treats to see who is your perfect post-meal dessert.
Pumpkin Coffee-Cake Cake
Enjoy 30% off the 6" Pumpkin Coffee-Cake Cake. No promo code needed, just add to your cart!  
The cake that sold out in 10 days is back by popular demand! We bake a vanilla cake and layer it with cinnamon goo (yes, it's a thing), crunchy cinnamon streusel, pumpkin cheesecake filling, and pumpkin frosting—then top this beauty with the *best* part of coffee cake, heaps of coffee cake topping. Full on fall, and perfect for every seasonal celebration.
Conclusion
From the classic brussels sprouts and mashed potatoes to the seasonal cranberry sauce and stuffing, there's a match for every type of Thanksgiving feaster. While this is a holiday for traditions and gathering with family and friends, you'll be most thankful if you save room for a big serving of dessert. For hosts, you might wonder what is the most popular Thanksgiving dessert when prepping for something for all guests, or are looking for Thanksgiving timeline & pre-order tips to make sure your process is as seamless as possible - at Milk Bar, we're here to help.