Unveiling Thanksgiving's #1 Dessert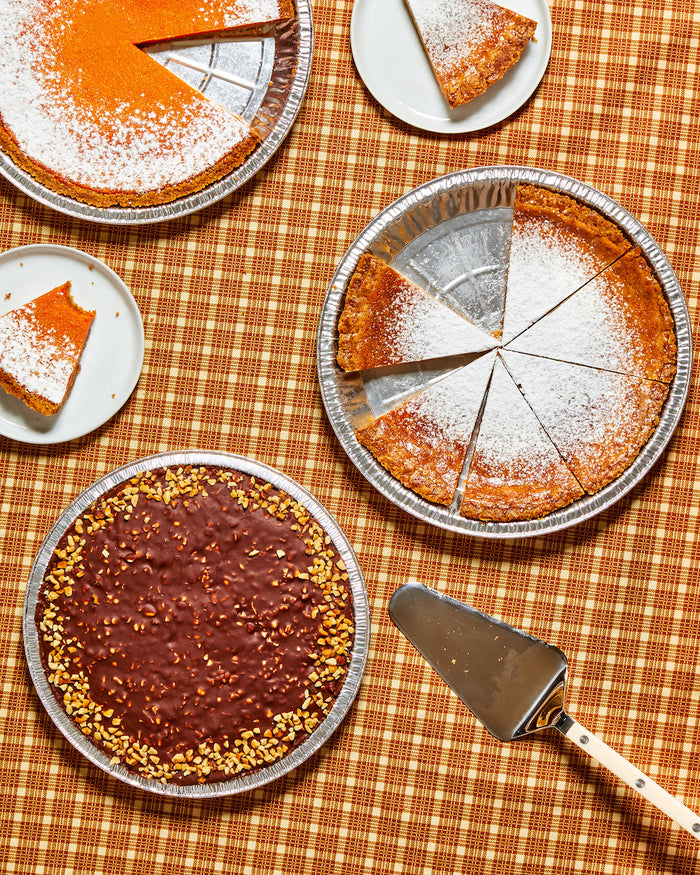 What is the most popular Thanksgiving dessert?
The holidays are here and that means it's time to plan your holiday menus. Sweet and savory food are a key part of celebrating any holiday, especially at Thanksgiving, but deciding on what to serve can feel more stressful than celebratory. We'll take a look at the traditional thanksgiving dinner dessert moves and suggest what types of treats you should order for your big day.
Pumpkin Milk Bar Pie
Meet the 2-in-1 pie of your dreams. Pumpkin Milk Bar Pie has the gooey, buttery, fudgy consistency of a pecan pie mixed with the quintessential pumpkin flavor you can't resist during fall. Your dessert plate will never be the same (in a good way). This pie is a hit at any type of fall event—parties, birthdays, Friendsgiving—or even just a Tuesday night.
Why Thanksgiving Desserts Make the Holiday So Special
Sure, Thanksgiving conjures images of turkeys and pilgrim hats and cornucopias, but not far from mind on this holiday is one thing: dessert. While many holidays carry with them some elements of dessert, Thanksgiving celebrates the sweeter side of food in a big way. Imagine going to a family Thanksgiving meal with no pecan pie or cake to cap off the meal – it just wouldn't feel right would it? So why is it that Thanksgiving has become so synonymous with dessert? Perhaps to balance out all the savory items? Or because folks want an excuse to linger a little longer with friends and loved ones.
Exploring Thanksgiving Dessert Trends
While we know pumpkin flavor desserts are a popular fixture of the Thanksgiving dinner, there are a few specific items that are most closely associated with this November holiday. In general, pie reigns supreme as a Thanksgiving dessert. While some families have their nice selections of pie servings, tradition says apple, pumpkin pie, and a southern pecan pie are the go-tos, typically made with a buttery pastry pie crust. It wouldn't be unusual to see a chocolate cream pie of some sort if your crew is into chocolate desserts. So how do you choose the right dessert to serve or bring as a guest? Here are some choices that everyone at the table will enjoy.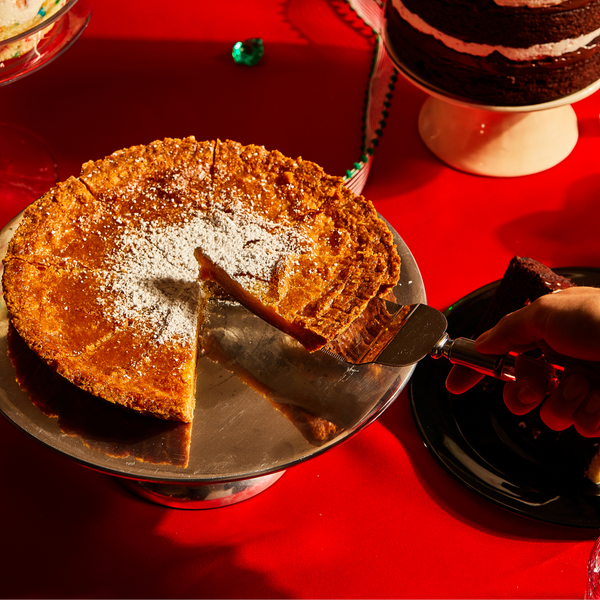 Milk Bar® Pie
Our signature, gooey Milk Bar Pie has a sticky, buttery, salty-sweet filling in a hearty oat-cookie crust. *This* is the pie that put Milk Bar on the map. Get it delivered fresh, anywhere in the USA. We dare you not to have a second slice.
10" pie serves 8-10.
Monthly Care Package
Whether you're a super gifter, creature of habit or just love the thrill of getting something sweet delivered every month, we've got your back. This monthly delivery option allows you to sit back and relax, knowing that we'll send (your favorite) Milk Bar treats, every month. Your order will arrive the same time each month, so you can plan your dessert breaks accordingly. If you want to cancel or adjust the details of your subscription, just log into your Milk Bar account and navigate to "manage subscriptions" to make changes, or check out our FAQs here for more info.
Please note, monthly care package orders are not eligible for delivery date selection and typically ship within 1-3 days of purchase. If you have a one-time purchase in the cart with the monthly care package, you cannot select a delivery date. In order to select a delivery date, place one-time purchases separately from the monthly care package.
Possible uses for monthly delivery:
Always having something sweet on hand when company calls
Stocking your office break room with goodies so everyone likes you
Monthly "I see you" moments on the doorstep of someone you like/love
Making sure your midnight snack supplies are maintained
An autopilot option for nonstop birthday gifting needs
Your college kid needs to know cookies don't grow on trees but do show up every 4 weeks give or take
Your bookclub loves a good snack
The thrill of seeing the white and pink box on your doorstep
Finding the Perfect Thanksgiving Desserts That Everyone Will Love
Go with the classics: pie.
If you're not trying to rock the boat, or a sucker for playing the classics you simply can't go wrong with pie. Our iconic Milk Bar Pie is a buttery, gooey, brown sugary soulful treat and pleases snackers of all personalities. If you want something a little more thematic, a Milk Bar Pumpkin Pie ups the ante with vegetal pumpkin flavors perfect for the fall. These pies are modern twists on the classics, and your fellow feasters will be asking for seconds.
Go big with flavor: cake.
If you're more of a fan of frosting, no need to apologize! Cake makes a great holiday centerpiece. Our cakes are layered up with loads of texture and flavor, making them a worthy complement to the holiday main course. Our Pumpkin Coffee Cake Cake will bring the traditional pumpkin energy your guests may be expecting, but surprise them with gooey cinnamon energy that feels like a cozy fall moment. If you prefer apple to pumpkin, our Caramel Apple Pie Cake remixes apple pie into a caramel loaded cake topped with ice cream frosting for something fresh and new.
Go with something snackable: cookie treats
Maybe you want something folks can graze on with their coffee or snack on while they watch the big game, cookies are an easy, low lift but high impact treat for Thanksgiving. Our assorted cookie packs mean you'll have the perfect flavor for all of your guests, from salty and sweet to creamy and dreamy.
Go with the crowd's needs: gluten free.
Don't forget to take the dietary needs of your guests into consideration as you plan your dessert spread. We deliver gluten free cookies and cake for easy solutions to special requests. Even better: your non-gluten free guests would never guess there's no gluten to be found in these goodies.
Save Yourself Precious Time by Ordering Milk Bar for Delivery
Still thinking about what to buy for Thanksgiving dinner? No matter what you're serving, one thing is for sure, you don't want to add any extra stress to the holiday. Order your treats from Milk Bar and we'll send the freshest, tastiest treats straight to your door so you can unwrap, plate, and celebrate. You can even pick your delivery date so you've got one less thing to worry about!
Pumpkin Coffee-Cake Cake
Enjoy 30% off the 6" Pumpkin Coffee-Cake Cake. No promo code needed, just add to your cart!  
The cake that sold out in 10 days is back by popular demand! We bake a vanilla cake and layer it with cinnamon goo (yes, it's a thing), crunchy cinnamon streusel, pumpkin cheesecake filling, and pumpkin frosting—then top this beauty with the *best* part of coffee cake, heaps of coffee cake topping. Full on fall, and perfect for every seasonal celebration.
Conclusion
From pies to a cheesecake, desserts are a key part of celebrating the Thanksgiving holiday. We've helped take the guessing work out of the meal planning process by pairing the best Thanksgiving Day desserts with your holiday spirits. Whether you serve pumpkin ice cream to go with a pumpkin cheesecake, or a cherry pie topped with whipped cream and a perfected pie crust, all that's left to do is plan the rest of your thanksgiving day menu! Check out more Thanksgiving timeline & pre-order tips for the perfect process!