XXL Halloween Cookie Pie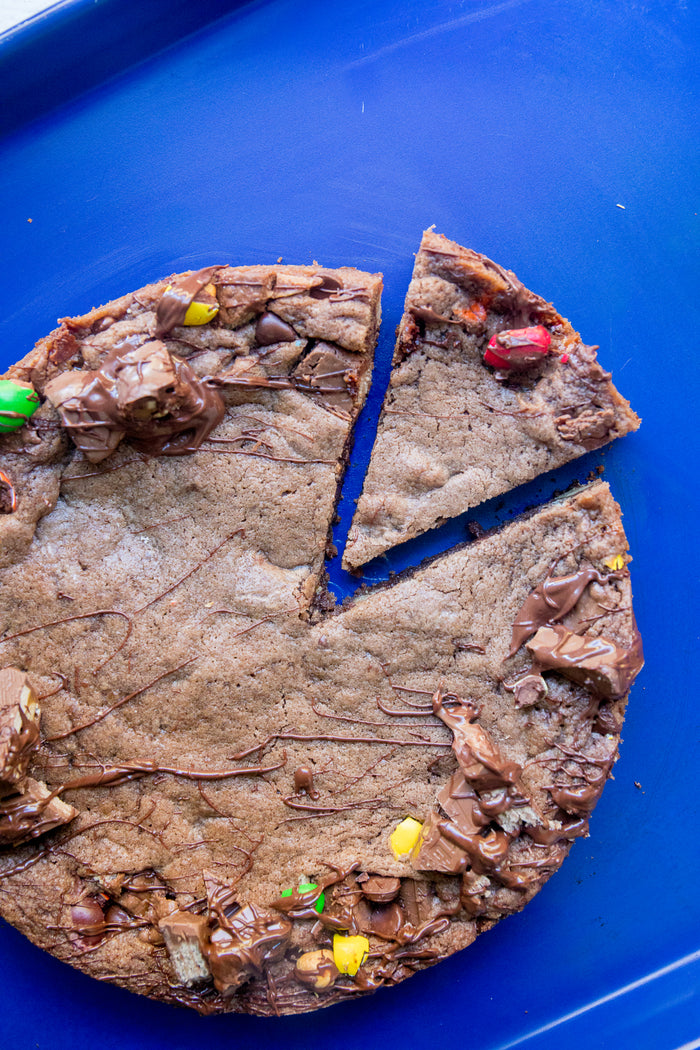 Equipment:
Oven
Baking sheet
8 inch cake ring/pan, 8 inch springform pan or 10 inch pie pan
Baking spray
Mixing bowls
Measuring cups + spoons 
Wooden spoon
Ingredients: 
½ cup (1 stick) unsalted butter, super soft
⅓ cup sugar
¼ cup light brown sugar
1 egg
1  teaspoon vanilla extract 
¾ cup flour
2 tablespoons cocoa powder 
1 tablespoon nonfat milk powder
½ teaspoons salt
¼ teaspoon baking powder
⅛ teaspoon baking soda
¼ cup semi sweet chocolate chips + 2 tablespoons for the top 
½ cup fun Halloween candy, chopped to quarter size pieces or kept whole if already one bite (colorful, chocolate, it all works!) + ¼ cup for the top
Prep!
Heat the oven to 350°F. Place the circular ring/pan on top of the baking sheet and spray the ring, pie tin or springform pan and baking sheet. Set aside.
Mix the wet!
In a large bowl, and using a wooden spoon or sturdy spatula, mix together the butter and sugar, flexing your muscles for about 2 minutes, until they are fully combined. Add the egg and vanilla and stir until combined and fluffy, about 1 minute.
Mix & combine!
In a medium bowl mix the flour, cocoa powder, milk powder, salt, baking powder, and baking soda and add to the sugar mixture, mixing until just combined. 
(If your dough is exceptionally wet - if it looks really shiny or oily - your butter was likely too hot. Throw it in the fridge for a few minutes to firm up before continuing on.)
Chocolate time!
Fold in the ½ cup candy pieces and ¼ cup chocolate chips. 
Scoop and bake!
Smoosh your dough into the circle. Using your hands, pat the dough down evenly. Sprinkle the ¼ cup candy pieces, and 2 tablespoons chocolate chips around the inside edge of your ring as decoration. Bake the cookie for 18 to 20 minutes. Double check you set the timer - because this cookie is already dark brown, it's tricky to tell by sight when they're ready to take out of the oven. The timer is your best friend!  Using oven mitts, remove from the oven and cool completely on the baking sheet (about 25 minutes) before removing it from the pan or cutting into it. Store on a plate, wrapped well in plastic for up to a week.