The Gretas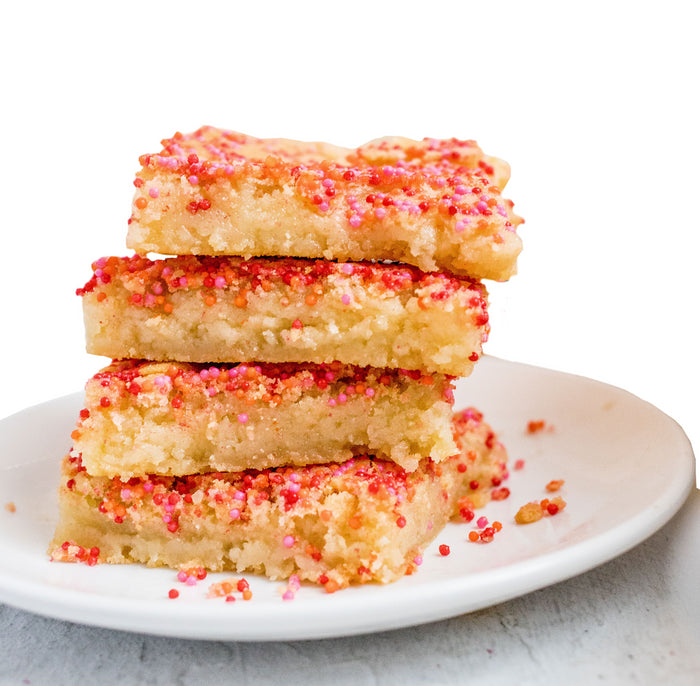 INGREDIENTS
1 stick butter, softened
1 teaspoon vanilla extract
2 to 4 tablespoons decorative sprinkles or sparkling sugar of your choice (may substitute a combination of 1 tablespoon sugar and 1 teaspoon ground cinnamon)
1. Heat the oven to 350°F. Grease a 8 × 8-inch baking pan.
2. Combine the butter and sugar in the bowl of a stand mixer fitted with the paddle attachment and cream on high until homogenous, about 3 minutes. Add the eggs, oil, and vanilla and mix until just combined, about 1 minute.
3. Add the flour, salt, and baking soda, mixing until just combined, about
30 seconds. Mix in the milk until just combined, about 30 seconds.
4. Spread the dough in an even layer in the prepared pan. Mix together the sugar and cinnamon in a small bowl and sprinkle evenly over the cookie dough.
5. Bake for 20 to 25 minutes for a slightly underbaked cookie (which is how I like it), or for another 3 to 5 minutes if you're a firm cookie fan. Cool completely in the pan before cutting into squares. For storage instructions, see page 47.
Not a cinnamon sugar fan? Substitute any classic, radioactive, or themed sprinkle in its place to top the cookie slab just before baking.