Snaps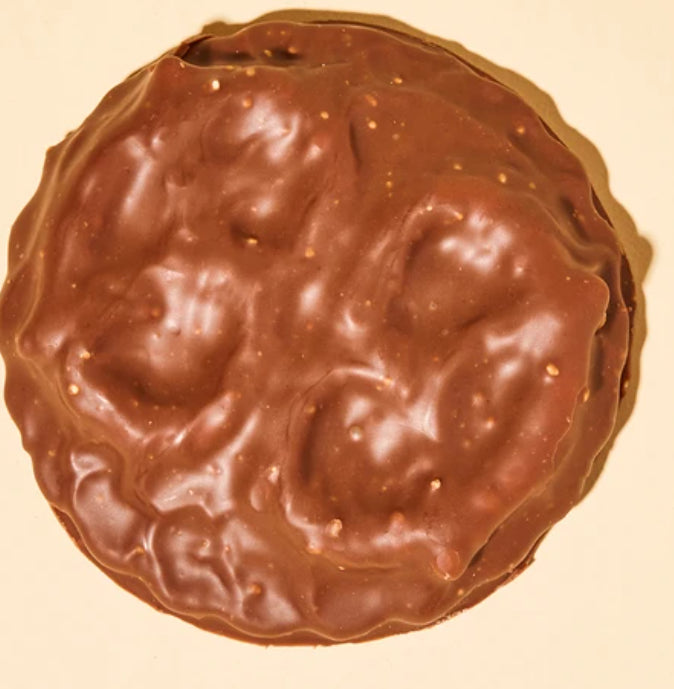 Makes 20-24 Snaps
The Formula
Cookie Base: BC Cut Out cookie, BC Chocolate Cut out cookie, crackers, etc.
1 each
Flavor Centers: Peanut Butter, Bake Club Patty Base, Marshmallows, Bake Club Nougat, Chewy Caramels, Dulce De Leche, Jammy reduction, etc.
2 teaspoons/ cookie (don't get greedy)
Crunchy/Sandy Layer: smaller crackers, mini pretzels, something delicious and crumby/broken up
1-2 each or 2 teaspoons
Chocolate Coating: 1 ½ cups chocolate chips,  2 Tablespoons Crisco OR 2 teaspoons oil
1 full dunk and transfer onto a greased sheet or parchment/wax paper.
Textural Topping: Crushed nuts, candies, etc. 
½ teaspoon sprinkled atop (or leave bare)
Bake Club chocolate cut out cookie
1 ⅔  cups flour, plus more for dusting
1 cup powdered sugar
½ cup cocoa powder 
½ teaspoon salt
¾ cup (1½ sticks) unsalted butter, melted
1 egg
½ teaspoon vanilla extract
Heat the oven to 350°F. Spray baking sheets.
In a large mixing bowl combine the flour, powdered sugar, cocoa powder and salt with a wooden spoon. Mix in the butter, egg and vanilla and stir until smooth. It may be easiest to ditch the spoon and use your hands to form the dough.  
Form the dough into a log and with plastic wrap roll into a large summer sausage- drinking cup-sized diameter. Wrap in plastic and freeze for 15 minutes. Slice into 24 rounds, transfer to baking sheets, spaced ½" apart. Bake at 350F for 10 minutes- because these cookies are already dark brown, it's tricky to tell by sight when they're ready to take out of the oven so set a timer! Cool the cookies completely before layering into a snap.