Pumpkin - Dulce De Leche Easy as Pie Bars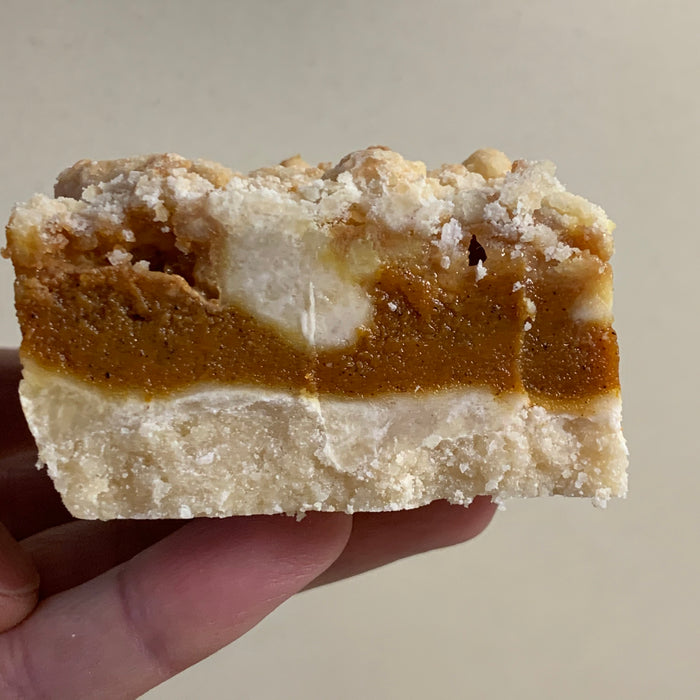 3 2 ⁄ 3 cups flour
1 ⁄  3 cup sugar
2 teaspoons kosher salt
2 1 ⁄ 2 sticks (20 tablespoons) unsalted butter, melted
1 15oz can pumpkin
½ cup light brown sugar
1 egg
1 egg yolk
1 tablespoon milk powder (if you have it)
1 teaspoon kosher salt
1 teaspoon ground cinnamon
½ cup dulce de leche, caramel sauce or butterscotch chips
Preheat the oven to 350°F and coat the baking pan with baking spray.
In a large bowl stir together the flour, sugar, and salt. Add the melted butter, mixing until well combined. Using your hands, press 3 cups of the mixture into the bottom of your prepared baking pan, smooshing to make an even layer that fills to the corners. Keep the remaining mixture for the top.
In a medium bowl, whisk together pumpkin, light brown sugar, eggs, milk powder if you have it, salt and cinnamon. 
Using the back of a metal spoon, smooth the pumpkin mixture evenly on top of the crumb layer. Drizzle the dulce de leche or evenly distribute the butterscotch chips over the pumpkin layer. Sprinkle (don't press) the remaining crumb mixture on top of the pumpkin-caramel layer to make a loose, crumby top layer.
Bake at 350°F for 40 to 45 minutes, until the pumpkin-caramel in the middle layer bubbles up and the crumb topping is golden brown (think the color of your favorite pie crust once baked!). Using oven mitts, remove the baking pan from the oven and let cool completely. Cut the cake into 4 lengthwise rows and 6 crosswise rows for a total of 24 squares. Store in an airtight container on the counter for up to 5 days or in the fridge for up to 2 weeks.