Bake Club Party Nachos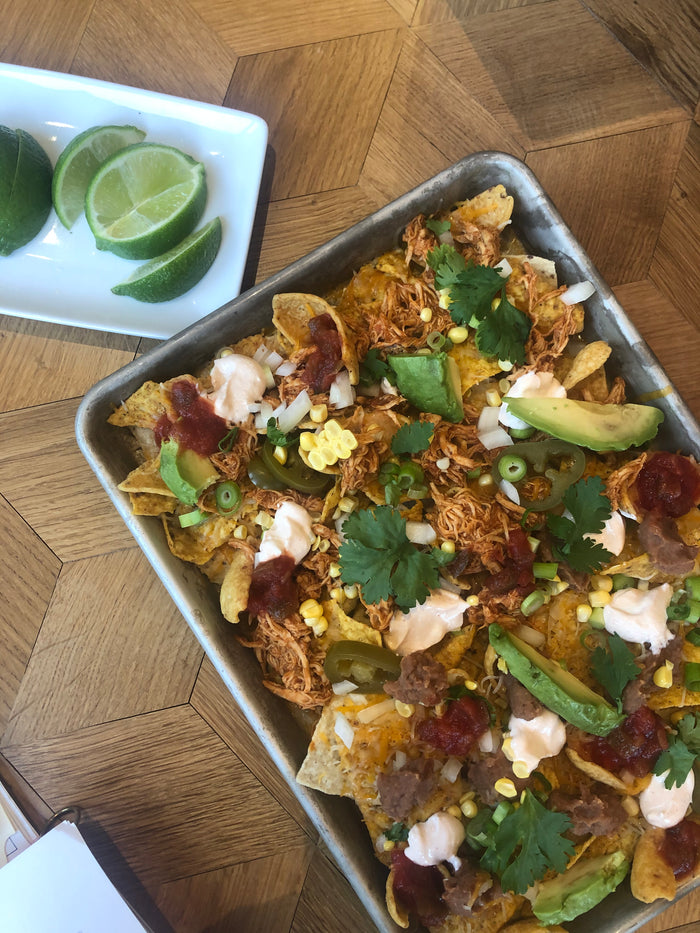 Serves 2, or 4 or 6 or…?! Sky is the limits
2 chicken breasts
1 16 oz jar tomato salsa
½ teaspoon cumin
1 (13-ounce) bag tortilla chips
1 (9 ¾ ounce) bag Cool Ranch Doritos 
1 (10.5-ounce) bag Fritos Scoops (Scoops are essential)
6 cups shredded or grated cheese, such as a mixture of Monterey Jack, sharp cheddar, and cotija (about 1 1⁄2 pounds- the more, the merrier on the cheese front)
1 (16-ounce) can of beans or refried beans of your choice
1 poblano pepper, seeded and cut into thin strips
1 medium onion, chopped
1 (12-ounce) jar pickled sliced jalapeños, drained
1 (16-ounce) jar taco sauce or Andre's hot sauce!
2 cups sour cream
1 1/2 cups tomato salsa, fresh or jarred
6 scallions, thinly sliced
2 ears corn, kernels removed (frozen works, too)
2 avocados, halved, pitted, peeled, and thinly sliced
1 cup loosely packed fresh cilantro leaves
Make salsa shredded chicken. In a small pot over medium heat with the lid on, bring 2 chicken breasts, 1 jar salsa, 1/2 jar full of water and cumin to a boil. Reduce to a simmer and continue cooking for 2 hours, stirring occasionally to ensure the bottom does not burn. Off heat, shred chicken with two forks and get going on bringing your Party Nachos to life.
Lay out multiple small baking trays. Set the oven to broil.
Arrange an assembly line in the following order and one-by-one encourage folks to scatter chips on their tray.
Tortillas
Doritos
Scoops 
(An even distribution of all 3 is key)
—-
Shredded cheese
(Shower the chips with cheese- a crucial moisture barrier to protect them from everything else)
—-
Beans
Salsa Shredded Chicken
Poblanos
Onions
Jalapeños
(Scattered evenly for optimal flavor distribution)
—-
Pop each tray under the broiler until the cheese is melted and starting to brown around the edges. This happens fast—2 to 3 minutes—so keep watch!
Remove the baking sheet from the oven and have folks pick up their tray to complete their masterpiece by topping the nachos with:
Taco sauce or hot sauce
Sour cream (or a combo of the two for a killer crema) 
Tomato salsa
Scallions
Corn
Avocado
Cilantro
(evenly distributed, of course) 
Serve immediately. With multiple napkins.