Olive Oil Muffins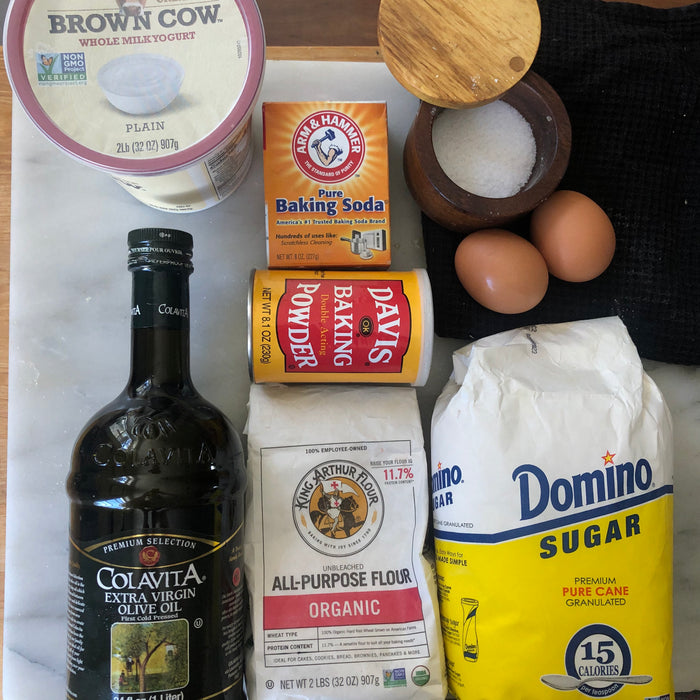 Makes 12 Muffins
1 cup full-fat yogurt or milk
1 1/4 cup fancy olive oil (I'm talking the $$$ stuff, don't skimp!)
3 large eggs
1 3/4 cups all-purpose flour
1 1/2 cup granulated sugar
1 ¼ teaspoons kosher salt
¾ teaspoon baking powder
½ teaspoon baking soda
Heat the oven to 350°F. Line or grease a 12x cupcake pan.
In a large bowl, whisk together the yogurt, olive oil, and eggs until combined. Add the flour, sugar, salt, baking powder and baking soda and whisk until just combined. Pour the batter into the greased pan and bake for 15-20 minutes, until the tops have puffed, golden brown around the edge and you can toothpick clean. 
Get your bake club brilliance on! Fold in 1 cup fresh or dried blueberries! Zest some citrus and fold into the batter. Make a killer glaze— hello cherry glazed olive oil muffins! Compound butters to lather on, yes please. Heck, swap out some of the ap flour for cornmeal or almond flour. Take this recipe and make it YOURS.
The batter makes a great loaf, too. Bake at 350F for 50-60 minutes.