Granola Chocolate Chip Cookies Ice Cream Sandwiches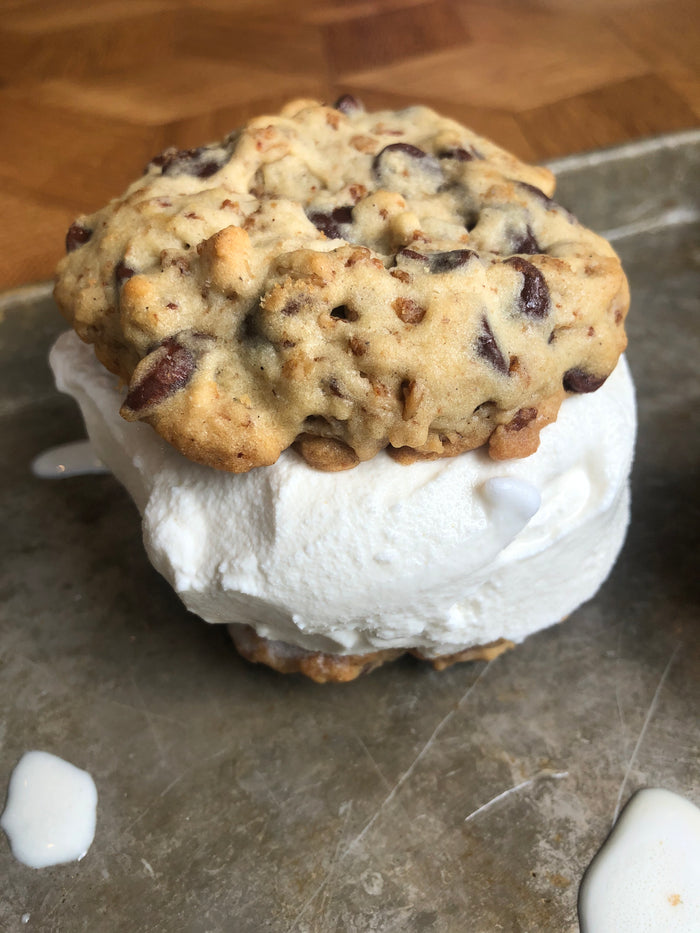 Recipe by Pooja Bavishi
Catch the video of Christina and Pooja in action here! 
Shop Malai ice cream here: https://www.malai.co
Follow Pooja here: https://www.instagram.com/pooja_bavishi

1 stick butter, room temperature

1/4 cup oil
1/2 cup sugar
1/2 cup brown sugar
2 eggs
2 cups flour
1 tsp baking soda
1 tsp salt
1 tsp vanilla
1/2 tsp cardamom
1 1/2 cups Quaker granola
12 oz. chocolate chips
1 pint Malai Orange Fennel ice cream or Malai Ginger Root ice cream

Preheat oven to 350 degrees. Line baking sheets with parchment paper. With an electric mixer, beat butter and oil until combined. Add sugars and beat until fluffy. Add eggs and vanilla and mix well. In a separate bowl, whisk together flour, baking soda, salt and cardamom. With a rubber spatula, add flour mixture to butter mixture until mostly incorporated, but not completely. Add granola and chocolate chips until well distributed and no streaks of flour remain.

Measure out tablespoon full size of cookie dough. Roll into a ball and slightly flatten into a disc. Place cookie dough discs on prepared baking sheets, about 2 inches apart from each other. Bake for 12-15 minutes, rotating the pan mid-way through the bake, until
the cookies are a light golden brown. Transfer to a wire rack to let cookies cool completely. Repeat until all the dough has been used.


To make ice cream sandwiches, place cookies into the freezer for about 30 minutes. After the 30 minutes, remove cookies and ice cream from freezer. Scoop Malai Orange Fennel or Malai Ginger Root ice cream directly on to the center of the cookie. Gently press down with a second cookie until the ice cream spreads to the edge of the cookie. Eat immediately, or wrap tightly with plastic wrap until ready to serve.