Dulcey y Cereal Crispies Mousse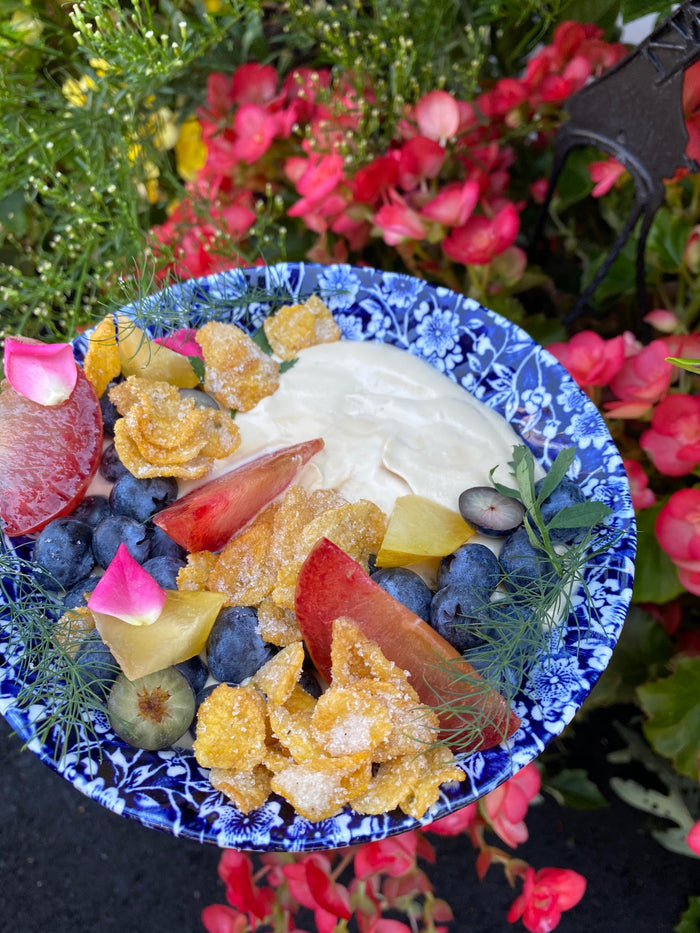 1 cups + 3 TBSP heavy cream
1/2 tablespoon powdered gelatin, bloomed in a small portion of cream, or 1 1/2 gelatin sheets bloomed in ice cold water
In a saucepan, bring 2 ⅓ cup heavy cream to a boil. In a medium bowl, carefully whisk warm cream into 2 egg yolks. Transfer back to saucepan and continue whisking until mixture has come to a boil (81c / 178f). Sprinkle gelatin over the surface of the warm mixture and whisk to dissolved. Strain warm mixture over medium bowl full of chocolate and let sit. Whisk until melted and one insanely smooth and shiny mixture. Fold mixture into whipped cream and salt to taste.
corn flakes or cereal of choice
Starting with 2 tablespoons of melted butter and adding more if necessary, pour melted butter over 2 cups of corn flakes cereal, sprinkle with 1/2 tablespoon sugar, and a pinch of salt and cinnamon and place in the oven at 325F until dried out
Smooth your mousse into a container and top with farm berries or fresh fruit and flowers! add tropical fruit for a little razzle dazzle.