Bday Cake Crumbs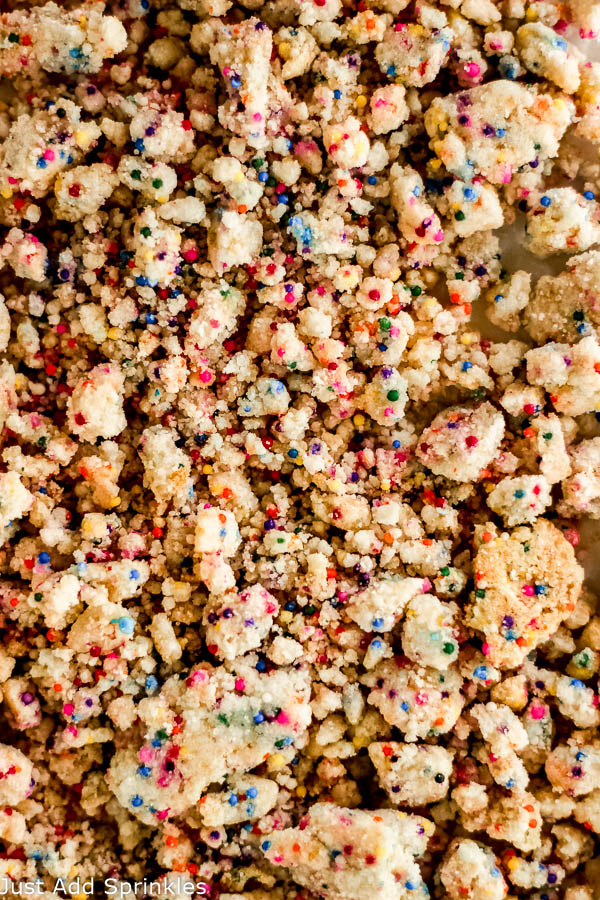 Makes about 2 cups
1/2 cup granulated sugar
1 ½ tablespoons light brown sugar 
¾ c cake flour 
½ teaspoon baking powder
½ teaspoon kosher salt 
2 tablespoons  rainbow sprinkles
¼ cup vegetable oil 
1 tablespoon clear vanilla extract 
Heat the oven to 300F
In a medium bowl, combine the sugars, flour, baking powder, salt, and sprinkles, mixing until combined. Add the oil and vanilla and mix again to distribute. The wet ingredients will act as glue to help the dry ingredients form small clusters; continue mixing until this happens.
Spread evenly on an ungreased baking sheet and bake for 15 minutes at 300F
Let the rainbow crumbs cool completely before snacking. Store in an airtight container in the fridge for up to 1 month.