Bake Club: Strawberry Shortcake Sundae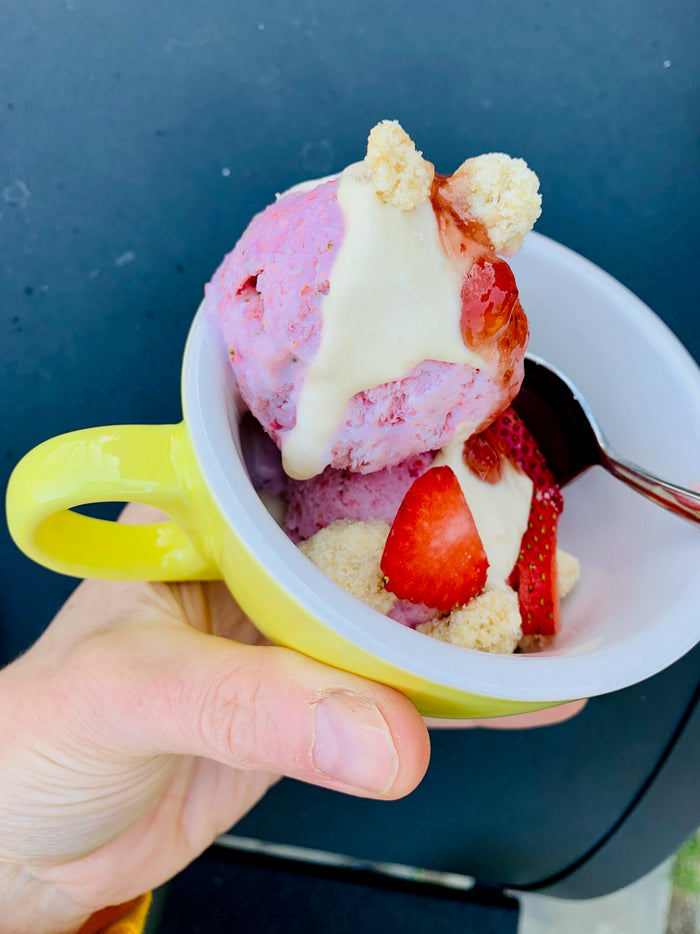 Makes 4 sundaes
1 recipe Shortcake Sundae Crumb
1 recipe Shortcake Sundae Ganache
1 pint Strawberry (or any fruit) Ice Cream (I HIGHLY recommend BAKE CLUB's version) 
Sweet cream- really anything sweet/tangy/creamy!
In 4 vessels (I like mugs), scoop, scatter, spoon and drizzle ice cream, crumb, ganache and cream to your heart's desire. Consume immediately (what are you waiting for?!)
Shortcake Sundae Crumb
Makes about 3 cups, enough for 4 sundaes + 1 batch Shortcake Sundae Ganache
1 ½ cups flour 
⅓ cup sugar 
¼ cup light brown sugar
¾ teaspoon salt
¼ teaspoon baking powder
6 tablepsoons butter, melted
2 tablespoons oil
1 teaspoon vanilla extract 
Heat oven to 275°F and line/spray a baking sheet.
In a medium bowl, mix together flour, sugars, salt and baking powder. Add melted butter, oil and vanilla extract, and toss until the mixture starts to come together and form small clusters.
Spread the clusters on a lined or greased pan and bake for 30-45 minutes. The crumbs should be caramelized and sandy and a very light golden brown. Your kitchen will also smell like a buttery paradise. Cool the crumbs completely. 
Shortcake Sundae Ganache
Makes about 1 cup, enough for 4 sundaes
1 ½ cups shortcake sundae crumb
⅓-½ cups milk
pinch salt
pinch light brown sugar
In a blender with the top on, puree cooled crumb and milk together until smooth, scraping down the sides of the blender as you go. Taste, season with salt and light brown sugar to season. If needed, pass ganache through a fine mesh sieve to make ultra smooth.