Bake Club Holiday Marshmallow Treats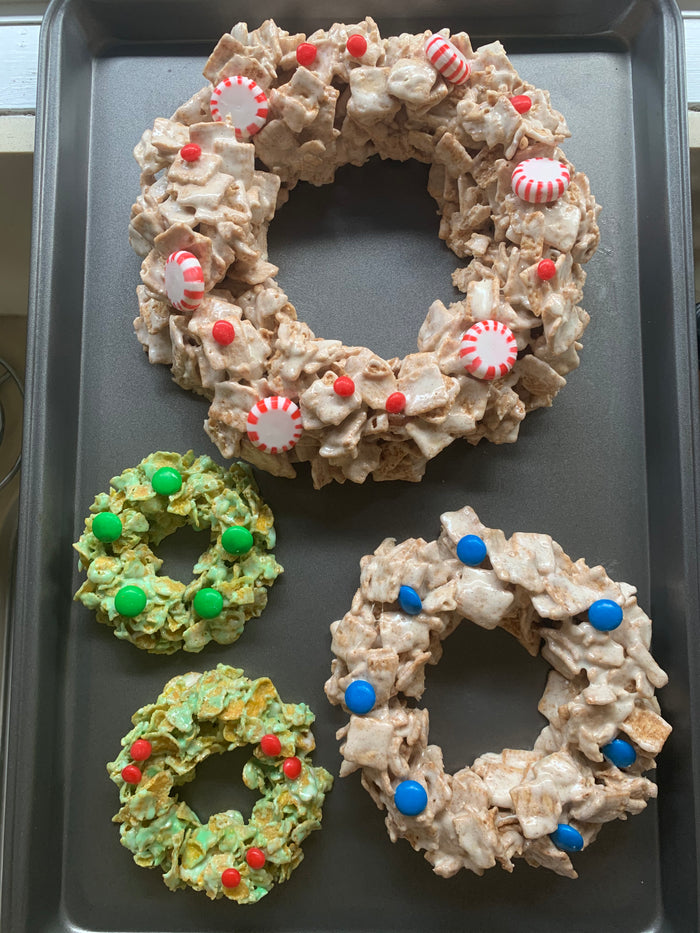 Makes 1-24 big or small gooey moments
7 tablespoons unsalted butter (save the paper it's wrapped in!)
10.5 oz (1 bag) marshmallows 
7 cups large cereal: Cornflakes, Cinnamon Toast Crunch 
(5 cups if using smaller cereal like pebbles or krispies)
Optional:
2 teaspoon vanilla extract or other extracts
1-4 drops food coloring 
Candies for decor
Grease the surface of a baking sheet.
In a very large, microwave safe bowl, melt the butter and marshmallows together for 2 minutes. Remove from the microwave and stir with a spatula, then microwave for 1 more minute. Stir until smooth.
Optional: Stir in any extracts of colorings you like.
Add the cereal to the marshmallow mixture and stir until every bit is coated. 
Scoop and form the mixture into any shape(s) large or small you like. I like to use the butter paper to help form shapes easily without sticking. Feel free to melt 1 tablespoon butter down and dip your clean hands/fingertips down for the same purpose.
Optional: Adorn your shapes with any clever edible decor you like.
Allow to cool and set 30 minutes before serving or storing