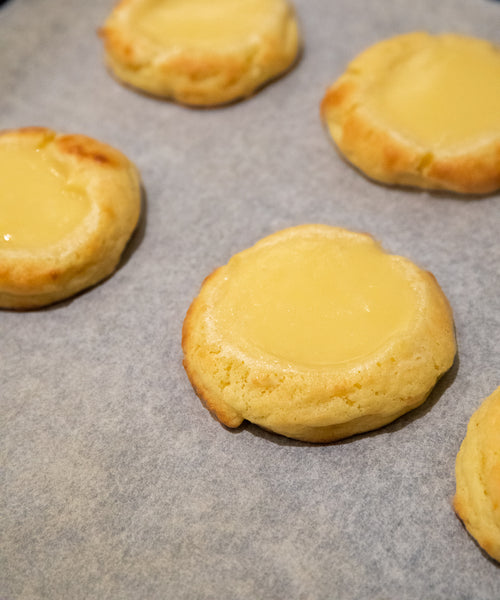 Bake Club Gooey Butter Cookies
Makes about 2 dozen small cookies
Gooey Cream Cheese Filling
4 oz cream cheese    
3/4 cup confectioners' sugar                               
1  egg yolk
1/2 tsp vanilla extract                                          
In a medium bowl, stir all ingredients together until smooth. You've got Gooey Cream Cheese Filling. Freeze while you mix the Gooey Butter Cookie Dough.
Gooey Butter Cookie Dough
1 box yellow cake mix                                      
1/2 cup flour                                                          
2 eggs
2 sticks butter, melted 
Set the oven to high broil and arrange a rack 5 inches below the heating element or alternatively heat your oven to 500F. Spray or line two baking sheets.
In a large bowl, mix together all ingredients until combined. Flatten and freeze dough for 5-10 minutes until firm. 
Scoop the chilled dough into an approximately 1½ tablespoon round. Use your thumb to form a deep well, nearly all the way to the bottom, in the center of each cookie. Fill the well with 2 teaspoons of gooey cream cheese filling. Transfer this cookie (no more than 2.5 inches wide), filling side up to the baking sheet. Repeat with the remaining dough until you have 2 baking sheets with 12 cookie rounds each on them, 3 cookies x 4 cookies, about 2 inches apart.
Broil each pan on the top rack for 20 to 30 seconds until the cookies melt and spread and begin to develop color on the edges, OR bake at 500F for 4-6 minutes. The intensity of a broiler or 500F oven can vary widely, so keep a close eye to judge when the cookies look done. You're looking for blonde, not brown cookies, as the cookies will continue baking after you take them out of the oven because they're on ripping hot baking sheets! 
Let the cookies cool completely on the pans for 20-30 minutes until the filling sets completely.