Bake Club Croissant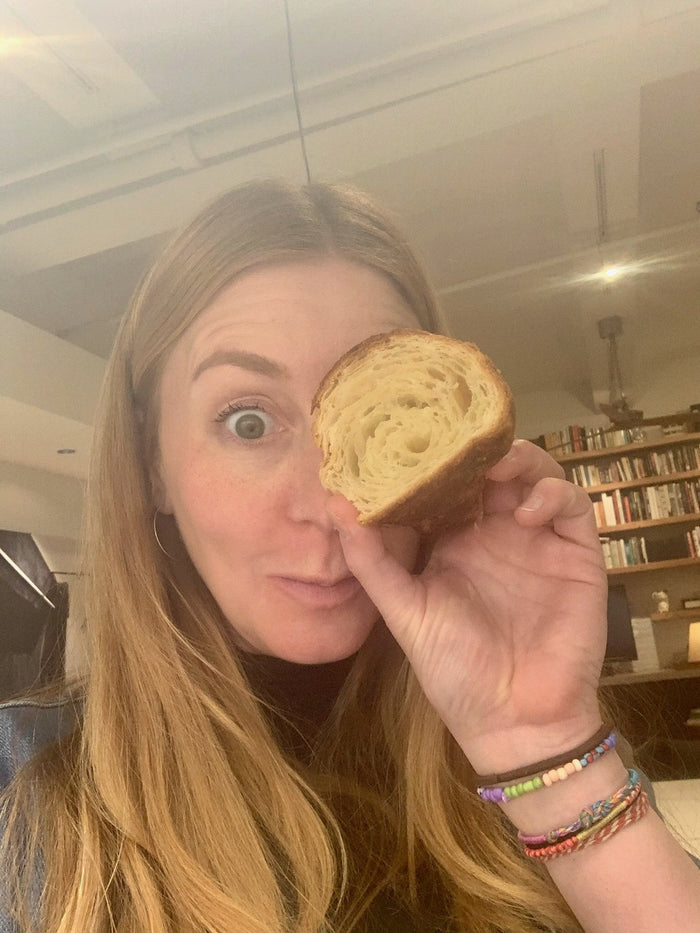 ½ cup water, warm
One ¼ oz pack (1 tablespoon) instant yeast
½ cup milk, warm
3 cups flour + more for dusting
¼ cup sugar
3 tablespoons butter, melted
2 teaspoons salt
2 sticks + 4 tablespoons butter
1 egg + 1 tsp water whisked together for egg wash
Whisk together warm water and instant yeast until bubbles form. Whisk in warm milk. Mix in flour, sugar, melted butter and salt until it comes together into a ball. Knead for 3 minutes more.
Flatten into a rectangle, wrap in plastic and refrigerate for 30 minutes.
In the meantime, between 2 sheets of plastic wrap or parchment, roll the 2 sticks + 4 tablespoons butter into a rectangle, a little less than 6" x 12".
On a floured surface, roll the rectangle out to 2x the size of the butter rectangle 6" x 24", place butter rectangle in the middle and fold dough over to cover completely.
Turn this dough packet 90-degrees then out to the original size of the rectangle (double its current size), dusting the surface and rolling pin, as needed.
Visually divide the rectangle into quarters, then literally fold the half of the right half into the right center, then half of the left half into the left center. Then fold the dough at that center line. This is called a double book fold.
Wrap in plastic and refrigerate 30 mins. 
Repeat this rolling out to 6" x 24" and double book folding process 2 more times, rotating the right edges of the dough 90-degrees each time.
After the third go and 30 min refrigeration, on a floured surface, roll out the dough one last time, 6" x 40", nearly two times its standard rolling length. Cut in 12 back-to-back triangles, then roll each up tight into crescents.
Place on 2 greased baking sheets, about 4 inches apart and cover loosely in plastic to proof for 60 minutes. At 45 minutes, heat the oven to 375F. Just before putting your croissants in the oven, use a brush or your fingers and gently coat the tops in the egg wash mixture. 
Bake the croissants at 375F for 18-20 minutes or until a deep golden brown all around. Cool on baking sheet for 2-3 minutes before digging in while warm or wait until they cool to room temperature. Use a serrated knife to saw down the middle and marvel at the insane layers you labored over!