Bake Club Cannoil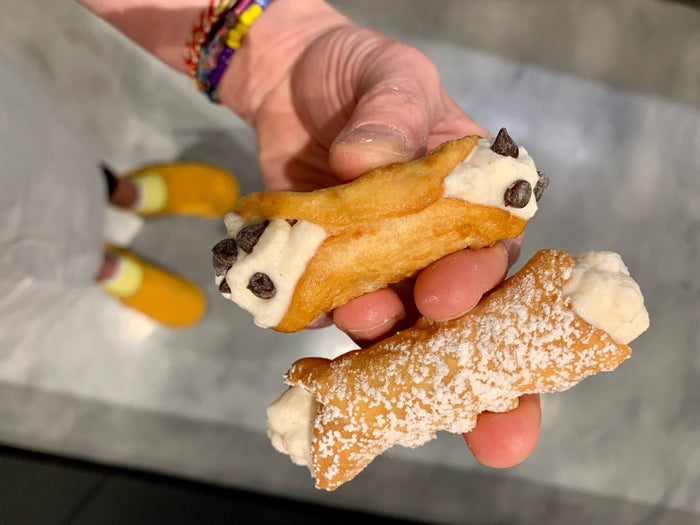 Bake Club Cannoli
Makes about 2 dozen
Shells
1 ¾ cups flour + more for rolling
1 tablespoon granulated sugar
½  teaspoon kosher salt
2 tablespoons butter, cut into small pieces
1 egg yolk
1/2 cup dry white wine
Make the Shells: In a medium bowl mix flour, sugar and salt together. Work the butter pieces in with your fingers until sandy. Add in the egg yolk and the white wine and mix until a smooth dough ball forms, 3-4 minutes. Flatten the dough and wrap in plastic wrap- rest in the fridge for a few minutes while you make the filling.
Filling
2 cups ricotta, drained overnight for maximum thickness and sweet cheesy vibes (I personally love a 50:50 mix of cream cheese or mascarpone and ricotta!)
3/4 cup powdered sugar
¼ teaspoon vanilla extract, optional!
¼ teaspoon ground cinnamon, optional!
¼ teaspoon salt
1/4 cup semisweet chocolate chips, pistachios, confectioner's sugar, etc— optional
Make the filling: In a medium bowl, mix the ricotta, powdered sugar, cinnamon and salt together until smooth. Stir in chocolate chips, pistachios or whatever else you might be feeling. Refrigerate.
Frying
1 quart vegetable oil, for frying
1 egg, lightly beaten, for egg wash
Fry the shells: In a medium, heavy bottom pot heat the canola oil on medium heat (you're looking to bring it up to 350 degrees- but no stress if you don't have a thermometer). Meanwhile, on a floured surface, roll the refrigerated dough out super thin, about ⅛" thick. Cut the dough into small-ish circles (4" diameter). Wrap each circle around a metal round or aluminum foil made cylinder. Use a little egg wash on the edge of each round to seal it shut. Use a pair of tongs to submerge and fry until golden brown, about 2 minutes (turn the oil up or down, depending on how quickly or slowly your first cannoli fries). Remove and set aside to cool on a paper towel lined plate. Repeat. 
Fill the cannolis: Just before serving, put the ricotta filling in a ziploc bag, cut the edge and pipe into the shells, filling from both ends, middle out so filling runs through the whole shell. Glam it up and dust with powdered sugar, dip half in chocolate or whatever your sweet heart desires. 
Fry/fill/serve same day for max cannoli vibes. They aren't as great on day 2 so consider this the perfect excuse to dig in now and worry later!