Bake Club Brittle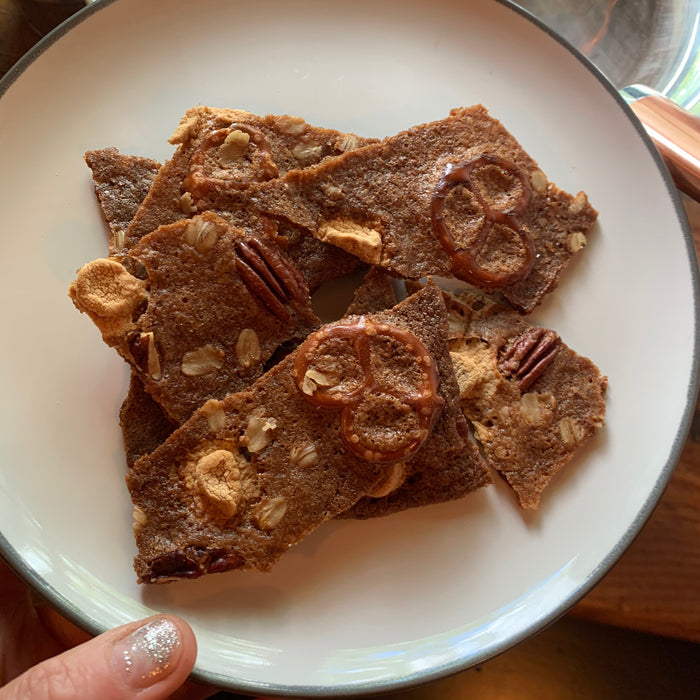 Makes about 1 ½ cups

1 cup sugar
4 tablespoons butter
3 tablespoons light corn syrup
¼ cup water
¼ teaspoon baking soda
2 teaspoons kosher salt (if your nuts are unsalted)
¾ cup toasted nuts, nibs, seeds, GRANOLA! whatever you want to brittle. (Don't underestimate the power of ½-1 teaspoon of ground spice, too!)

Grease your baking sheet.

In a medium, heavy-bottom saucepan, combine sugar, butter, corn syrup and water.

Over medium-high heat, with a heatsafe spatula or wooden spoon, stir while cooking the mixture until it turns a dark amber color, about 10 mins. Remove from heat and carefully whisk in baking soda, followed by salt. the caramel will rise and bubble. Move quickly folding in the nuts/nibs/seeds/whateves and pouring the brittle mixture onto the baking sheet and use the back of the spoon or spatula to spread it out 1/2 inch thick. Let it cool completely before breaking into bite-size pieces using a rolling pin. 

(My move is to grind peanut brittle down in a food processor and fold it into Bake Club PB Sandies! But my friends swear by smearing the top with melted chocolate then breaking into pieces)