Spreading joy to those
who need it most
Whether it's sending hundreds of thousands of cookies to healthcare workers on the front lines of COVID-19, or supplying homeless shelters with cakes and truffles during monthly birthday parties, we're committed to spreading joy where it's needed most, one cookie at a time.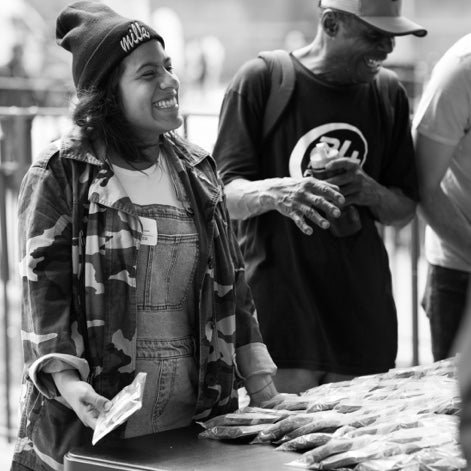 Our team handing out cookies with NYC Relief.
Actions Taken
Below are action steps we've taken recently:
We've donated over 100,000 cookies nationwide to hospital workers on the frontlines of COVID-19.
We've helped thousands of children celebrate their birthdays annually in partnership with The Birthday Party Project, an organization that hosts birthday parties across the country for children ages 1-21 experiencing homelessness.
We've participated in annual charitable events and initiatives for organizations including Cookies for Kids Cancer, N Street Village, the Food Education Fund, and many more.
As we continue to update this page with new social justice initiatives, we thank you for your time and engagement with Milk Bar while we work towards making the world a more equitable and just place for all.
Our team handing out cookies with NYC Relief.
Announcements from MilkBar
AN UPDATE FROM MILK BAR, JUNE 2020
We changed "Crack Pie" to "Milk Bar Pie" in April 2019, but in doing so, we did not properly acknowledge the insensitivity of the original name in our statement last year (below).
We sincerely apologize for the insensitivity of the name. We acknowledge the fact that the criminalization of crack cocaine possession and mandatory minimum sentencing specifically targeted and wreaked havoc on Black communities during the 1980s and 1990s. This systematic targeting of communities of color continues to be an issue 30 years later. We never meant to hurt anyone with the pie's name, but we recognize that the usage of the name for so long came from a position of privilege, as did our initial apology in April 2019.
We promise to do better by our team and community, and appreciate your support along the way.
---------------------------------------------------------------------
A NOTE ON MILK BAR PIE, APRIL 2019
To our Milk Bar community -
We've made the decision to stop using the name Crack Pie. Starting today, it will be known as Milk Bar Pie. Below, I'm sharing the note I sent to the Milk Bar team. The fact of the matter is, anyone who visits this website or our stores or our social media is our family too, and we listen to what you have to say.
While change is never easy, we feel this is the right decision. Not everything will happen at once - the next few weeks and months will be a transition period. Your support means everything to us and if you have feelings or questions about it, we're always here. Come by for a slice of pie, a corn cookie or just a friendly face -  as it's been since day one, our only mission is to inspire a little moment of joy in your day.
-- Christina
---------------------------------------------------------------------
Team,
We're a family at Milk Bar. We're here for each other on the best days and support each other on the less-than-best, too. We've grown up together, evolved as a company and as humans, and over the last 10 years have seen new cities, new customers, and new channels that were unthinkable to us back in the day. We've also learned a lot along the way.
Our team, all 392 of us (!!!), are wonderfully unique, yet share a common thread: we're here to spread joy. We consider ourselves lucky and honored to be the go-to for making life a little sweeter -- from birthdays, weekends and weddings, to a care package to a friend across the country, or just as a pit stop on the way home after a long day. What fuels us (besides cookies) are our house rules: show respect, have integrity, love what we do.
When we do anything, from implementing a new company policy to creating a new layer cake, we do it because it's important to us. Our mission, after all, is to spread joy and inspire celebration. The name Crack Pie falls short of this mission. 
That's why starting today, Crack Pie will now be Milk Bar Pie.
Why Milk Bar Pie? It's simple, so we've decided to keep it simple. It's been on the Milk Bar menu since day one. And, the old name was getting in the way of letting the gooey, buttery slice bring happiness— my only goal in creating the thing in the first place.
I understand a new name will take some getting used to. The next few days, weeks and maybe months will be a transition, but it's all worth it. Your managers will be in touch with next steps. If you'd like to talk to me directly about the change, don't hesitate to reach out. I am here for you.
In the meantime, thank YOU, for showing up, for meaning it, for doing you, for sharing, for trusting, for the head scarf, for the high kicks and for making this day, your next shift and this place better.
-- Christina